Convert Scanned and Image PDFs into Text Documents

What is PDF OCR X?
PDF OCR X is a simple drag-and-drop utility for Mac OS X and Windows, that converts your PDFs and images into text documents or searchable PDF files. It uses advanced OCR (optical character recognition) technology to extract the text of the PDF even if that text is contained in an image. This is particularly useful for dealing with PDFs that were created via a Scan-to-PDF function in a scanner or photo copier.
How it Works
Drag your image or PDF onto PDF OCR X

Select your conversion settings

PDF OCR Converts your PDF to text or searchable PDF depending on your conversion settings.
Features
Advanced OCR (Optical Character Recognition) Engine
Supports both Mac OS X and Windows (XP/Vista/7/8)
Supports PDF, JPEG, GIF, PNG, PICT, BMP, and most common image formats as input.
Can convert to both editable text and searchable PDF.
Supports over 60 languages including English, German, French, Chinese, Japanese, and Spanish. Learn more
Batch Conversion (convert multiple files as a batch).
Silent Mode For Automator Scripting (Enterprise Edition Only)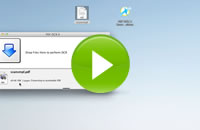 Watch a 3 minute introductory screencast

Get help and support
Read the PDF OCR X Users Guide